It sounds easy, buying for boys.  Don't they all just want lego? But what do you do when they don't? Not all of our little men love spending hours digging through bins of tiny plastic bricks for that elusive piece. So instead of wandering aimlessly up and down the "boy aisles", here are my picks to help you score big with the little guys on your list  this year.
Not only are these toys sure to delight, they will also keep your little fellow busy for more than a few minutes!  Pop some of these under the tree and then start planning how you will use your free time!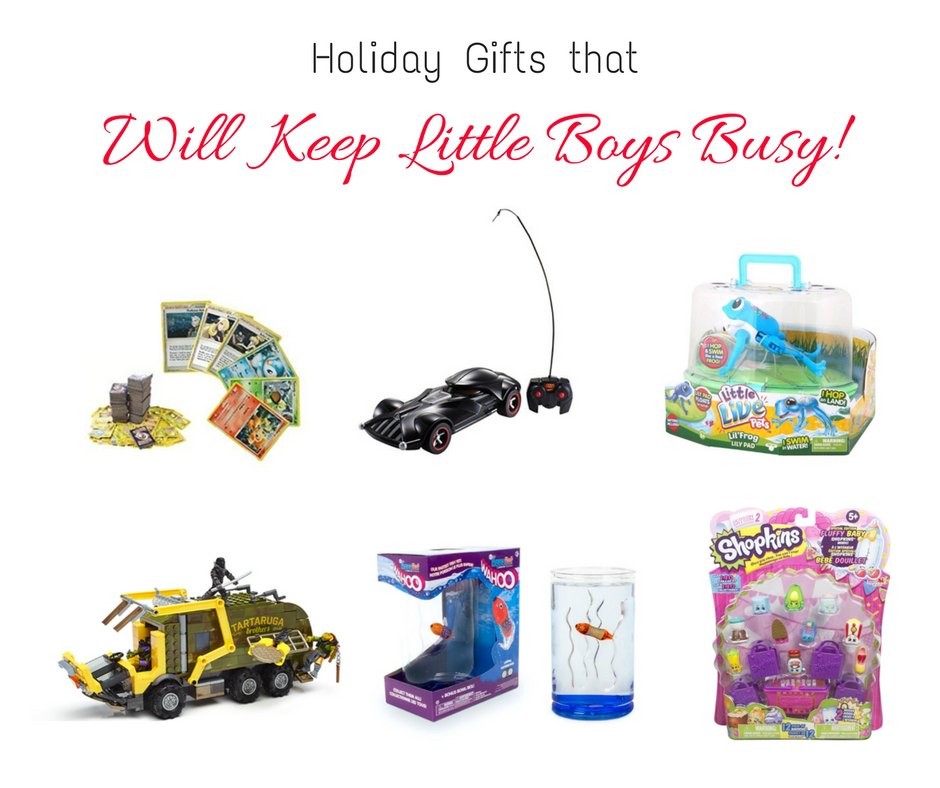 Mega Blocks, a truck AND mutant turtles?  Works for me!  This "totally rad" collection from MegaBlocks is sure to be a hit for the lego lovers and Turtle lovers a like.
Giving live pets on the holidays is a bit nutty, but giving a LITTLE live pet… well that is just smart!  The Lil frogs come with their own tank and all wriggle just like a real frog…without the worry of salmonella over the holidays!
My son (7) LOVES these little robotic critters, who will hop, and land and keep your kiddo entertained!
Hot Wheels Star Wars Darth Vader RC Car
This is the perfect indoor RC car for the Star Wars lover in your life… especially if they veer to the dark side.  With easy remote actions, this baby car loop a kitchen in moments! And you get the realistic "Vader breathing" sounds!
Now, it isn't a quiet toy.. so be prepared to have sounds of the dark side throughout the house!  It is FUN, and easy to you for little kids (and grownups) of all ages.
And for a little extra fun, enter below to win one of our AMAZING gifts from our gift guide!  Open to Canada only. Closes Dec 20.
Check out our other Holiday 2016 Gift Guides here:
Holiday Gifts for Really Smart Kids
Gifts For Canadians (or those who really want to feel Canadian)  (*With Special Discount code offer)
Holiday Gifts You Will Want To Steal from Your Kids  (WITH GIVEAWAY)
Holiday Gifts that will keep little boys busy for HOURS! (With GIVEAWAY)
Holiday Gifts that will Make your teen HUG you!
a Rafflecopter giveaway