As a non crumble lover I always struggled making crumble for my crumble loving husband, until I got down to the crux of what he loved about it.  My daughter has built a huge love of baking, and so together we tweaked and adjusted and created this easy Blackberry Crumble recipe for MEGA crumble lovers.
Now, of course you can use ANY fruit as the base. We have done strawberry, rhubarb, apple, raspberry… ANYTHING.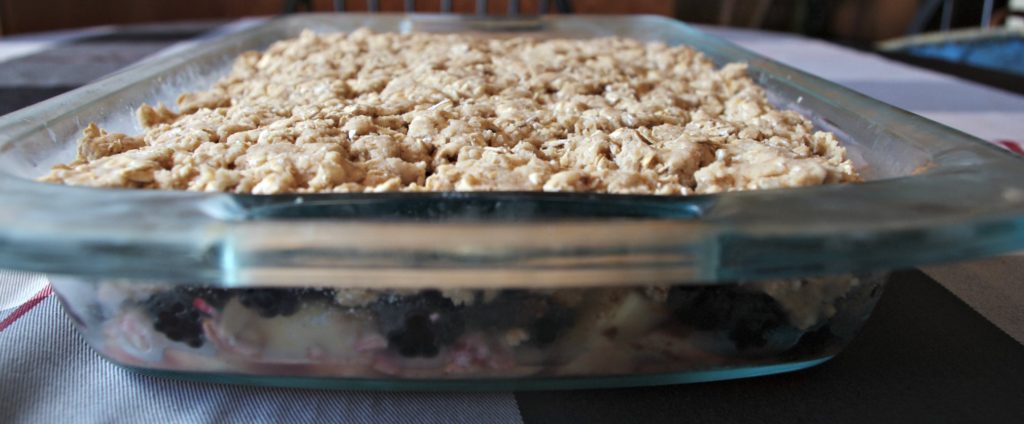 EASY BLACKBERRY CRUMBLE BASE
take 4 cups of fruit-we used blackberries and 2 peeled, diced apples.
Mix 1/2 cup white sugar with 2TBS of cornstarch  (use less starch for a runnier fruit base)
Toss the sugar/starch mixture over the fruit.
Drizzle 2 TBS of lemon juice over the fruit.
Place fruit in the bottom of a 9×13 inch baking pan.
Now, hubby likes his crumble low on the fruit and HEAVY on the crumble.  He basically wants to eat a cookie… but disguise it as a crumble.  So, we delivered, and we gave him a crumble and a half!
Easy Blackberry Crumble TOPPING
For the topping, mix the following ingredients at MEDIUM with a mixer. We don't have time for the ole "cutting in" of the butter, so we use electric power for speed an accuracy
3/4 Cup Flour
1 1/2 Cup oats
3/4 Cup Brown Sugar
3/4 Cup Butter
1TBS cinnamon
Mix together in an electric mixer until the butter is chunky, but combined.  Sprinkle over the fruit as a heavy layer.
Bake at 350 for about 35 minutes until the top of the crumble is golden brown.  Let cool and serve with ice cream or whipping cream.
Definitely save some until the next day when you can have it cold for breakfast!  That is the BEST way to eat our easy blackberry crumble of course.  If you have extra blackberries, I recommend you try our easy blackberry muffins or these EPIC Homemade Blackberry Cinnamon buns (I KNOW) !  The perfect way to use up this seasonal crop!