4 years ago when we moved out of the city and onto a farm we had great plans to "see the world" and travel with our kids.
It is an amazing dream, and one that I think has HUGE long term value in terms of raising good humans.  We wanted our kids to understand that travel was accessible, and easy to do.
And then we got some chickens.  And more chickens. And our dogs got old. And we got goats. And the daily responsibilities of LIFE made travel challenging.  Who on earth would come and farm sit for our hoard of 60+ heart beats, feathered and furred?  Who can manage a 160 pound, ornery goat?
Our dreams of travel started to disappear. It was just TOO hard.
And then at the start of the summer we decided to make a NEW rule for life. We removed the "requirements" needed for us to travel.  We decided we no longer needed ALL of us to go, nor did we have to "make the most" of a travel and costs and stay for a week or more.  We decided to "carpe diem" the moments, and seize the opportunity when it came up.
And that is what brought us to Jamaica.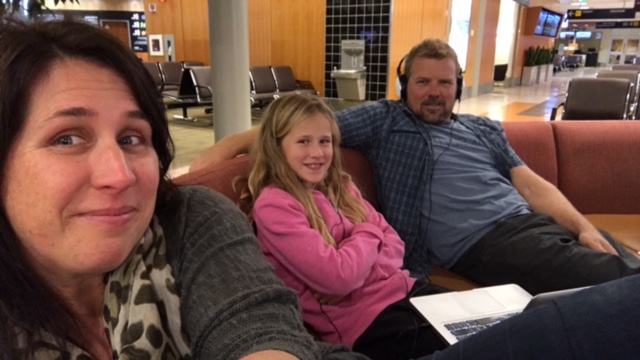 We had a chance to join #Beachesmoms at the Beaches resort in Negril Jamaica for a conference/family event for 5 days.
Our trip started on the west coast of BC, CANADA, and with 19 hours in transit THERE and 28 hours in transit HOME it was a trip that previously we would have "weighed the costs" of attending.
But with our new attitude, we decided that EVERY opportunity is one that should be enjoyed to its fullest, so we boarded a red eye late one night and started our adventure.
We travelled through Victoria, to Calgary, and Toronto and then off to Montego Bay, Jamaica (yes, I sang that song the WHOLE way there) I am old hat at sleeping in the Toronto airport, and while I don't recommend it, there are worse places to spend a few midnight hours.
We arrived in Montego Bay in the early afternoon and passed through customs without a problem.  We had about a 25 minute wait but the air conditioned space made it comfortable.  For families travelling with a hoard of youngsters, or people with less patience than our 10 year old, you can check out Club Mobay where you are whisked through as a priority and have support throughout your airport arrival and departure.
The shuttle to the resort is also air conditioned (necessary for those Canadians arriving in long pants) and it is a 45min – 1.5hr trip to the resort, depending on time of day and traffic.  We used this time to snooze.  You see a bit of Jamaica, but mostly small towns, and the "highway"
We arrived at Beaches to drums, dancers and and epic explosion of fun. Check out our arrival HERE! 
We had an easy check in, cold drinks ready, and our bags were brought to our room while we sipped and enjoy our first feel of Jamaican heat and humidity (which was exactly what our canadian skin needed)
Beautiful treats awaited us in our room (many thanks #Beachesmoms) and we tucked in and tasted the local fruits, and then donned our suits for a first dip.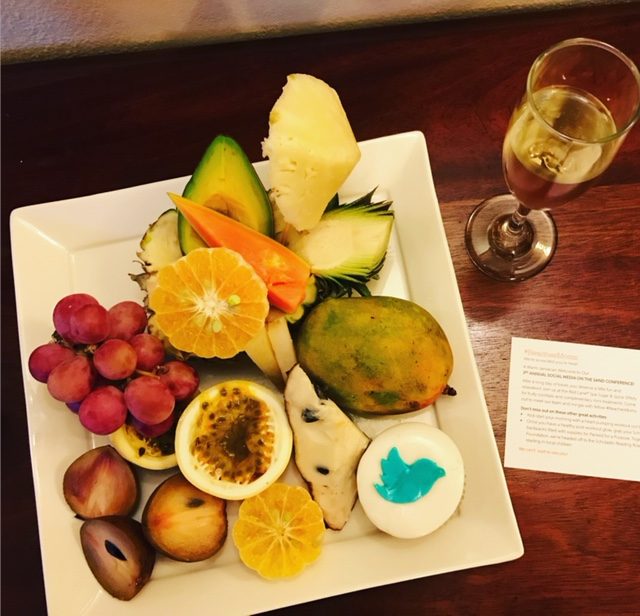 While we had clouds each day, we were grateful for them.  The sun was HOT when it came out and we were thrilled to enjoy the ocean and pools without burning.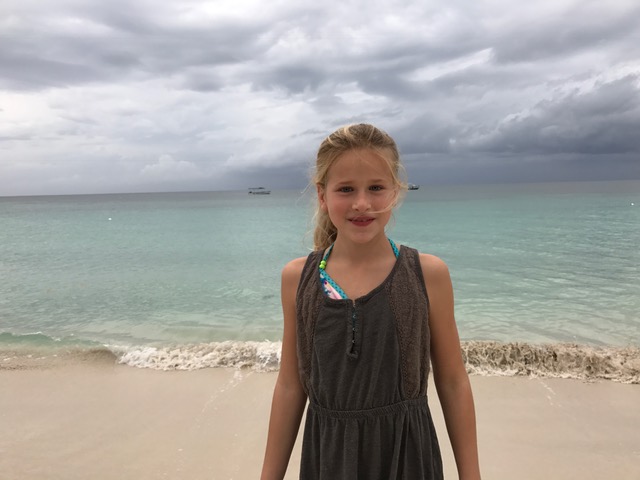 The resort has a local shop where you can grab sunscreen, and other essentials you don't want to bring.  The prices are very reasonable.
Our Beaches experience was filled… and it will take much more than ONE blog post to capture it. So I will break it down in a few more to come.
Beaches Hotel Activities & Amenities (our favourites)
Travelling around Jamaica with kids
#BeachesMoms conference experience.
until then… Ill leave you with a shot of our view from room. Imagine the sound of the waves, and the warm air.