6 years ago we moved here, to this strange little Island with a goal to have TIME for our family.  Time to relax and with a focus on BALANCE (which I do actually think is a good, true REAL world despite the every growing trend that "balance is Bullshit")
We worked hard, we played with our kids, and we established a life.
Last summer my husband hurt his back, herniating his C5.  This was the start of balance crumbling for our family, and despite our best efforts, we couldn't get it back.
There was always a reason to DO more.  We now had a business each that was thriving and "a priority".  The kids had sports, sometimes multiple, that were also a "priority". School work, as the kids entered middle school and high school became a HUGE priority, as did the ever growing farm.
Suddenly we had all these PRIORITIES, so many things that were hugely important and required our commitment, and our time to sit, breath and just BE, no longer existed.
We didn't stop. For anything. We just keep going, adding on renovations, more speciality chickens, more activities, more, more, more.
We were good at asking for help, but the help didn't reduce the priorities… in fact, it may have given us the allusion that we had MORE time for new things.
We missed summer. Entirely.  We missed doing all the things we LOVED to do, that we CAME here to do.  Our afternoons of soccer in the meadow are now spent running and picking up kids from sports, or cleaning coops, or answering the ever growing list of emails.
Our weekends on the sailboat, or hiking the local trails became more soccer, kids jobs, and renos or farm work.
We forgot.
But today, right now, I remember.
Last week we had a family holiday at Beaches Turks and Caicos.  It was a combined "mom event" with extended days for "family".  We played, swam, ate and enjoyed each other.  We STOPPED, all of us, for a moment and slowly we found some balance again.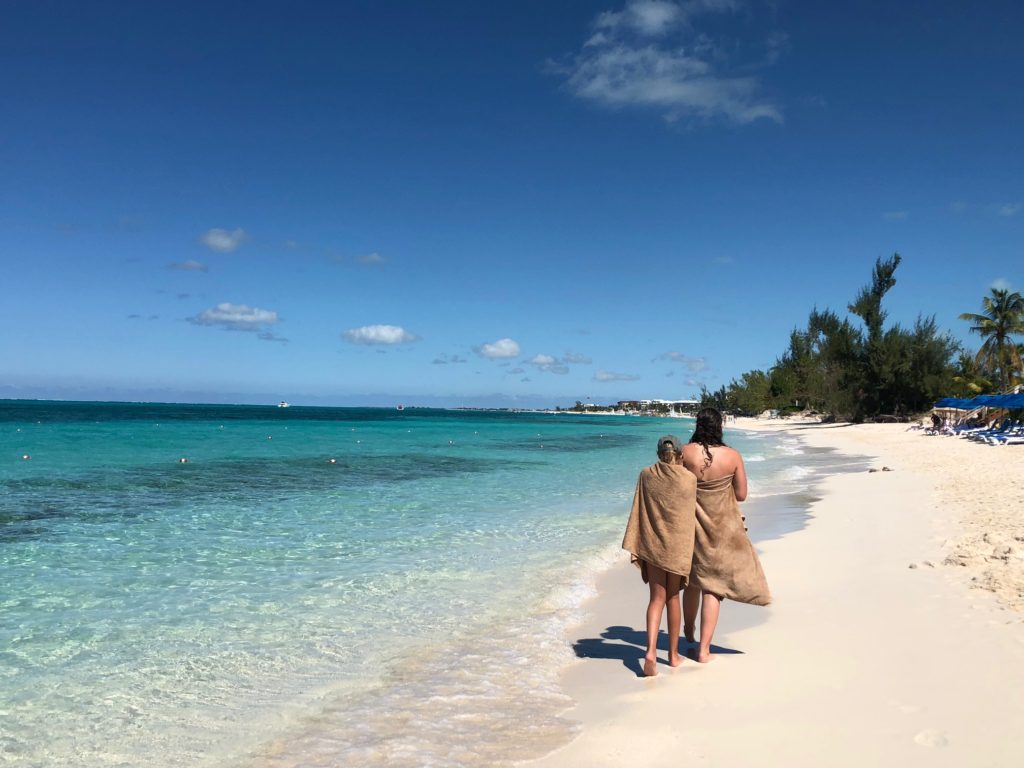 My hardworking teenager balancing a job, two sports and straight A's napped on the beach, learned how to scuba dive and and spent quality moments with her family.
My responsible chicken breeding tween played, and ate (oh my did she eat) and for 7 days didn't worry about her poultry charges.
My 8 year old had us ALL there to play, and entertain. He tried new foods, he slept like a rock all night and he felt LOVED.
And me and Hubby?
We were able to SEE our family as a unit again. Each special, but a team. We found our groove.
Humans habitually slip back into bad habits, its our nature.  At the root of who we are.
The first step in changes is recognizing you want it…. and after the HUGE risk we took to get to where we are, I don't want to lose the peace I felt when our family was the most important thing.
The kids are growing SO quickly, and as they grow, they bring in their own priorities. So, we need to make room for that as a family, and help them establish good habits to manage all the things they are passionate about.
And as with so many things, we need to lead by example. We need to teach them that balance ISN'T bullshit, and that it IS vitally important to your happiness.
We can't do it all friends. We really can't.  And sometimes we need to let go of our own priorities to help others manage there.
So, with my tan still glowing from my week of bliss, as I watch the leaves drop from the trees outside my window… it's time to make another change.
To remember that amidst all the NOISE… there really is only 4 things in my life that are my priority….  and each one of them has a beating heart, and a passionate mind.
And that is really all that matters.