Living where we do, one of the first items we needed was a chainsaw.  Not just to deal with bucking up firewood, but also for general clearing, and safety issues.
Over the last two summers we lost of lot of Cedar trees to the drought.  These dead and dying trees weren't just great for kindling, but were also one heck of a hazard in a wind storm.
I am not much of a chainsaw gal myself.  They are high on the "danger meter" and always made me a little anxious.  Perhaps it is also because they are usually bringing DOWN trees on our property, and my job was to keep countless kids, dogs and the odd stray chicken out of the way.
But, over the fall we had almost a dozen trees taken down on our lot and the neighbours. We had offered to do clean up, in exchange for the wood (slow burning fir) and this mean we needed another chain whirring.
Enter the Ryobi 16′ Gas chainsaw.
We have already tried (and loved) the 18V Battery Operated saw but needed something with a bit more gumption to get through what we had going on. We call the 18V cordless saw our "Butter saw". It is quiet, and easy and just slices right through the small stuff.  A "Sunday morning" chainsaw if you will.
First off, gas saws always throw me with the start.  I may be a tough chick, but pulling a starter cord has always been a struggle.  With the Ryobi 16′ Gas chainsaw, thankfully the instructions to start are RIGHT THERE on the saw.  It is a good cross check for a gal like me (where was I supposed to put my foot again) and made for a one pull start every time.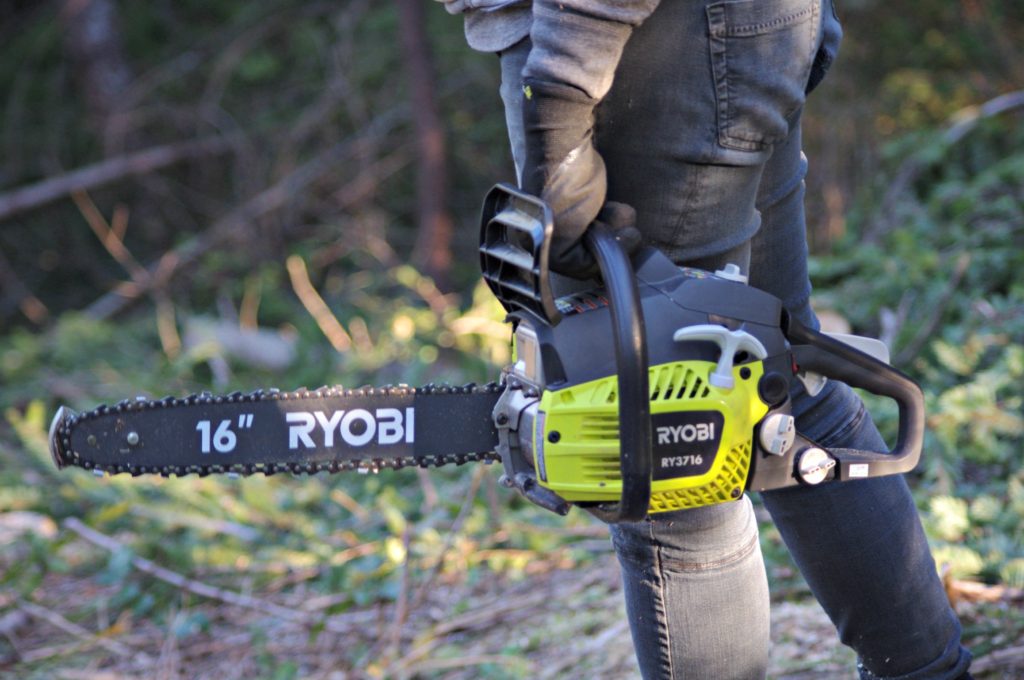 Second favourite feature was the weight.  This bad boy is light.  Like, light enough to drag through bush and carry over logs.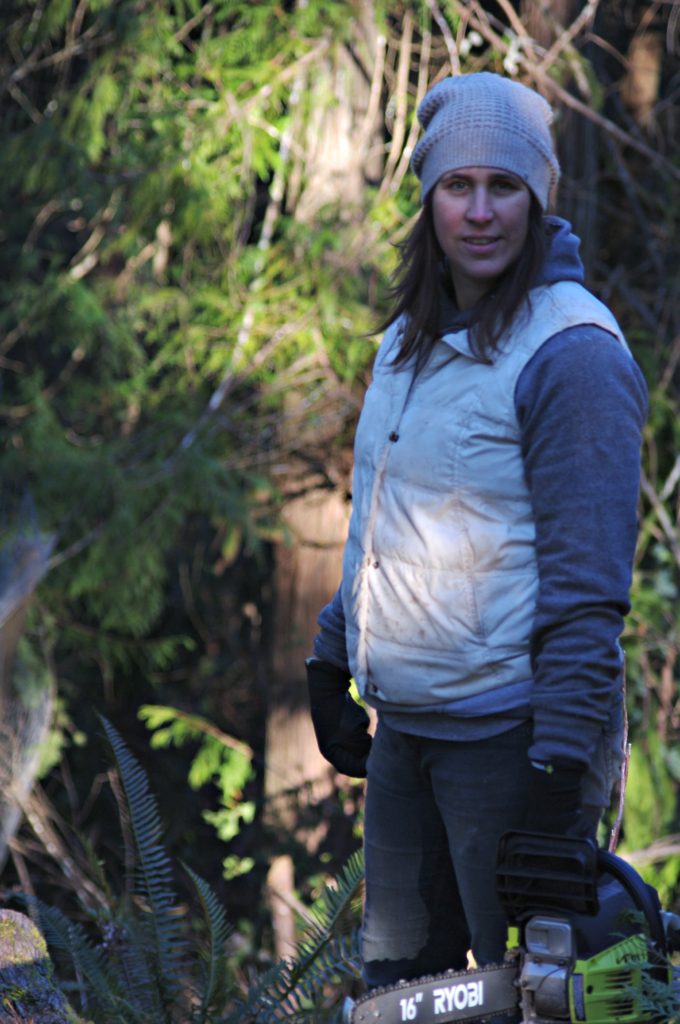 Another pro- yes, it cut.  I didn't push it on the HUGE rounds, but it went through a nice diameter of tree quickly and easily.  It did kick on the smaller side branches from the trunk (but that is usually what we use the electric saw for anyway) and that actually could have been handler error (ahem!)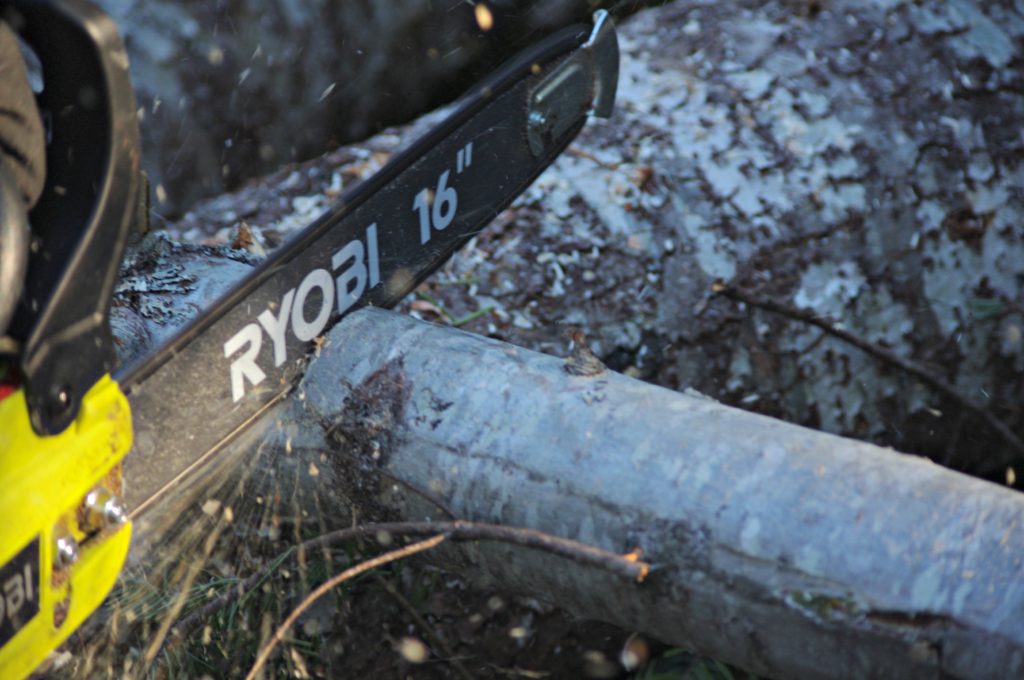 The spray was solid though, so you will NEED protective eye wear for this. Trust me, don't try it without. PUT ON THE GOOFY GLASSES.
I didn't wear chainsaw pants, but based on my husband's angst as I was bucking up a tree, I may find a pair wrapped up for my birthday.
In short, the Ryobi 16′ Gas chainsaw performed well.  It is yet another Ryobi staple we have on the farm, and I have to say, it is nice to have a manageable gas saw around. There is NO WAY I could manage my husbands beast of a machine, and in a pinch, I can assist with trees down, or worse if needed.
Could this 16′ take down a full size tree? No. But it can make short work of taking down a smaller one, or helping to clean up and square up a big one.
We believe in a tool for every purpose… and there is definitely a lot of uses for this saw.
Available in Home Depot stores across the country!