There are a few things in life that are always worth the investment.  A great mattress for one, I mean how many hours do we spend in our bed?
A hot tub; we have never regretted spending money on a hot tub. While it is a pretty major expense, it is something our family always values.
And, newly added to the list, a Springfree trampoline.
We had been mulling over getting the kids a trampoline for years, ever since we moved to the island.  We had never had one, and had a difficult time committing to the investment without knowing if our kids would really USE it.
Luckily we were the winners of a contest last year that had a Springfree trampoline delivered to our door during the Labour day long weekend of 2015.
It has been almost a year and the passion for our trampoline hasn't stopped.  The kids used it during our mild west coast winter, added water balloons during the hot July days, and we "may" have had a dog, (or even a goat) on there snuggling while we star gazed.
Our kids USED this item, and used it a lot.  It was the go to activity on our farm, EVEN when we had baby chicks tottering about.  As a parent, I felt good about the kids being out there, exercising and breathing fresh air.
And then I saw the tgoma and while I sometimes get frustrated at the amount of technology around us, I was really impressed in the way the tgoma inspired our kids. And it is REALLY fun.  Hilarious, enticing, exhausting.
The tgoma is a system of sensors you install onto your Springfree Trampoline.  The sensors connect to a system that holds an iPad.  You can download the tgoma App, choose games and activities, and track user participation.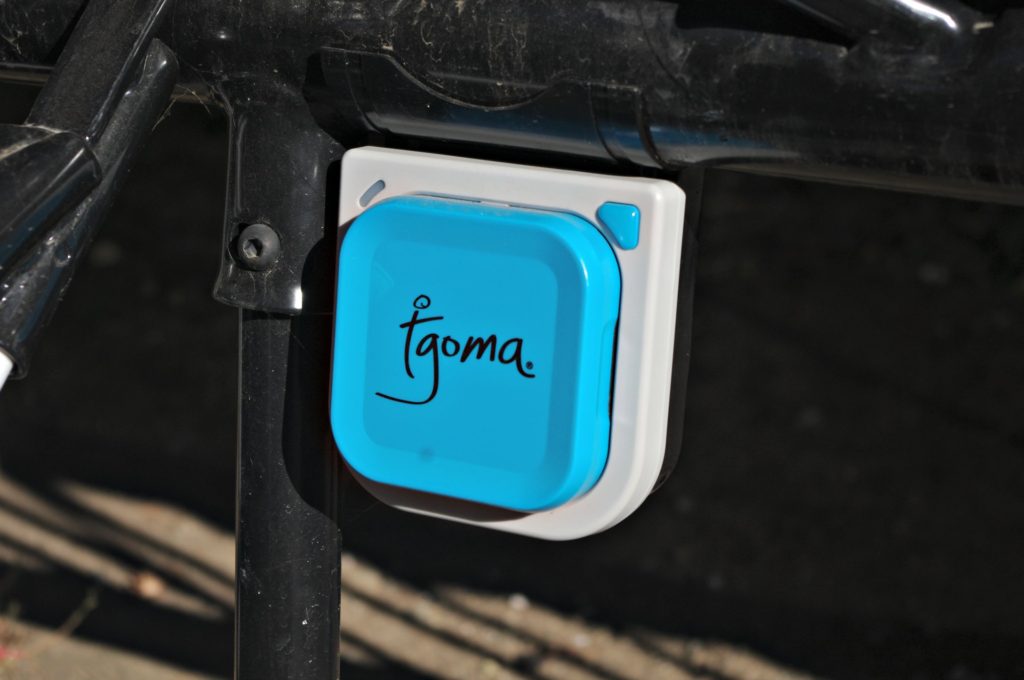 Once the tgoma is installed you can use your trampoline just like you used to, OR you can activate the tgoma.  The sensors are weather and water proof.
After trying the tgoma, we installed one for the kids.
And what happened?
Nothing and everything.  They continued to use our Springfree Trampoline, but their play evolved when they activated the tgoma activities.  Each game runs from 30 seconds to minutes long, pushing your kids endurance, balance and activity levels.  Our kids would rotate players and leave the trampoline huffing and puffing.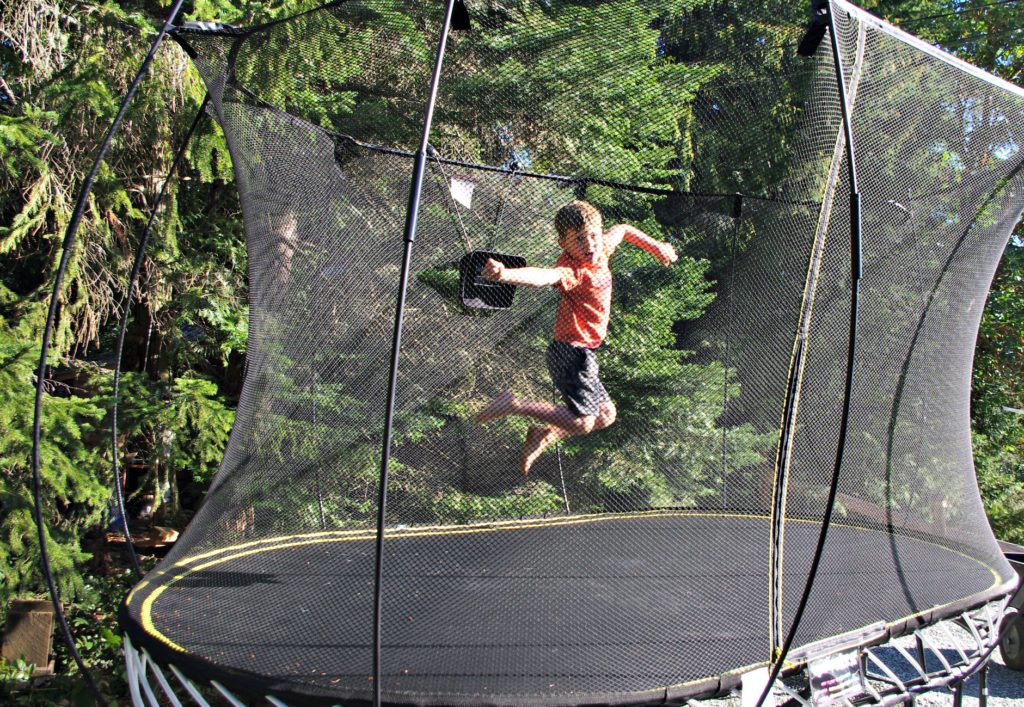 Hubby and I tried it and would sweat, and puff, and feel the ole muscles the next day.
It brought our trampoline play to a whole other level.
Now, they still get on there and jump around and have water fights.  I still find my 10 year old curled up with a blanket and a book, hiding away from her siblings.  They still use the trampoline in the exact same way that they always did, they just also now use the Tgoma every now and then.
We do family nights now, where we have tgoma game competitions. We watch each other, participate in the challenges and our trampoline created a new and engaged spectator opportunity.
Initially  I thought that bringing technology to the trampoline was a bit of a cheat.  We were having so much fun WITHOUT it, and I thought once we got one that my kids would ONLY want to use it with the tech activated.  But, I was wrong.  They value the tech component of the tgoma, but they also love the old school jumping just as much.  Perhaps the tgoma is showing them that technology is great "sometimes" but there are still these awesome moments in life when you don't need it to have fun.
That laughter doesn't need electricity?
Our Springfree trampoline added value to our life, and to our kids' lives.  They have another option to be active (and trust me, it is harder than you think!) and it has created family moments for us.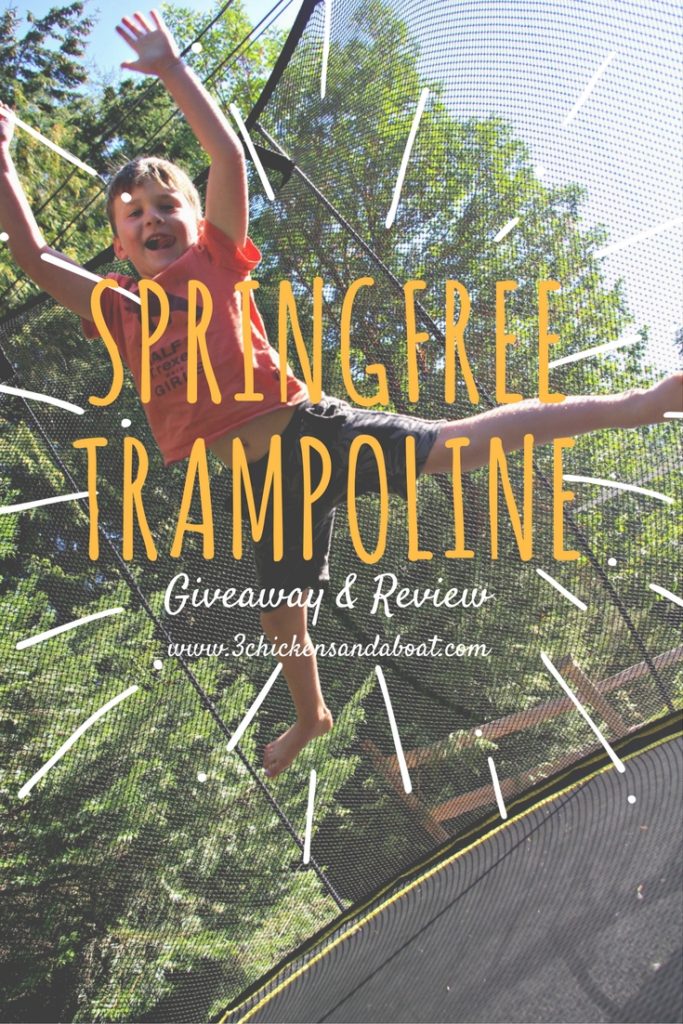 Because I was so lucky last year, and we LOVE our Springfree Trampoline SO MUCH, our friends at Springfree Trampoline are giving us  an O77, Medium Oval Trampoline, with step and tgoma system to give away to one lucky winner!  Enter below, and be sure to check out the TERMS & CONDITIONS for the contest! This contest is open to residents of Canada and open to all legal residents of the 50 United States or the District of Columbia.