Last January I made a commitment to myself to get OUT of my chair and hit the gym. I knew it was time, and while I had devoted so much of myself to starting my business, I now needed to regain control of my health so I would have the stamina and energy to continue to run it, WHILE enjoying my family and life.
Fast forward to this year.  I kept up with my goal, and this year I again know its time to assert MORE control over my health.
Fad diets, and huge commitments don't work for me. What DOES work is slow and steady, manageable lifestyle changes.  I enjoy balance, but  also enjoy exercise and living a healthy life.
So this year, I am upping my anti and the gym, and committing extra days to more activity, and keeping up my relationship with Bulletproof360.  I am not an athlete, and have no intentions of ever being one, but I do want to bring healthy choices into my life.. and Bulletproof360 is one of those choices.  (Especially the fat water and brownie bites!! WOW)
Dai Manuel is another.
Dai runs an epic 28day FREE healthy community group.  He inspires you to be active EVERY day- but only for a little bit of time.  Coach Dai Manuel from the Whole Life Fitness Manifesto wants to help you live YOUR best life in 2017 and he will be sharing some words of wisdom with us on how you can make 2017 your best year yet by committing just 30 minutes a day to yourself.
So, join us Wednesday January 11, 8pm EST/5pm PST where we will be talking about Whole Life Fitness, and Bulletproof360 with our passionate team!  AND, sign up today to check out Dai's FREE program  Trust me- it's a lifechanger!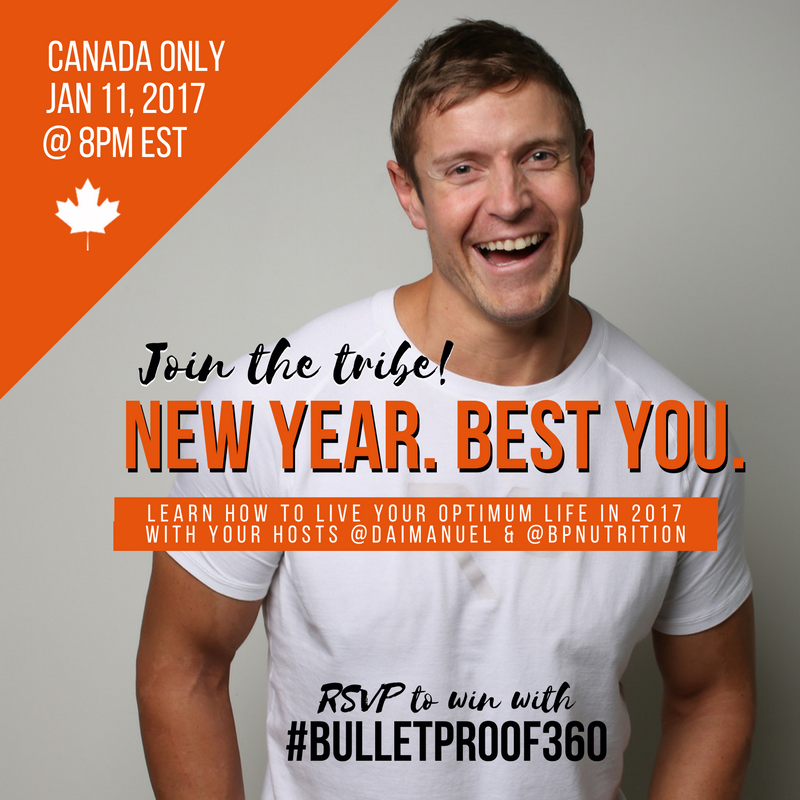 Again… sign up for the WLFM FREE 28 day New Year Best You Challenge and join a supportive tribe of people just like you who are committing to being better in 2017!
So please join coach Dai Manuel @daimanuel and Bulletproof 360 @bpnutrition on January 11, 2017 at 5pm PST/8pm EST for an inspiring conversation on how you can live your optimum life in 2017. See you then!  RSVP below to be eligible to win some of our AMAZING prizes!  Review our T&C here. 
** Please note this party is for our friends in the Great White North (aka Canada). We will have another party for our American friends on Jan 24, 2017 – watch out for that announcement soon!