After hatching and raising button quail for a few years, we were ready to move on to other, larger and more "robust" varieties.
I was searching for California or Gambol quail hatching eggs and came across a post for MEARNS quail eggs in an online group.
One look at their happy little faces and I was hooked.   The investment wasn't small, Mearns eggs go for $25-$50 an egg, but after hatching out rare chickens, we knew the investment paid for itself in later bird sales, and enjoyment seeing these rare and special breeds thrive.
Our first hatch was a disaster.  I treated the quail eggs as I would chicken eggs.  Adding extra candling in to monitor progress.  BIG MISTAKE.  With the micro size of quail eggs, the number one incubating rule of "NEVER OPEN THE INCUBATOR" rings true!
Second try though, we had success!  Here is how we did it!
Mearns Quail Incubating
Step one is to ensure you have a high quality and calibrated incubator.  We invested in a fully automatic Brinsea Incubator- with automatic turner and humidity.
You will need to purchase the LARGER egg baskets for the turner (they fit duck eggs, or with the split down the middle, fit quail eggs)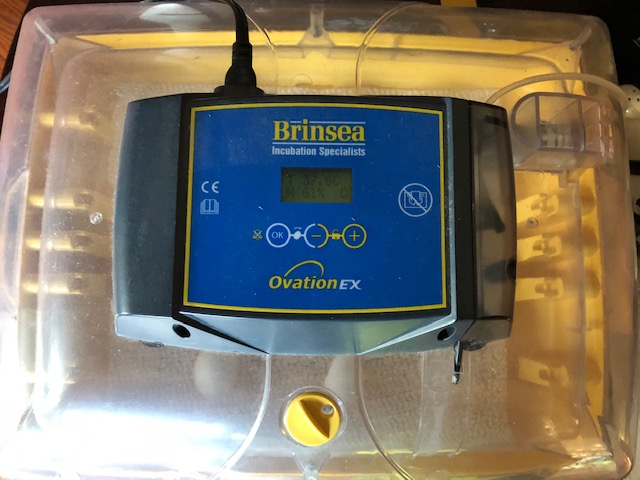 Your Mearns Quail will take aproximately 25/26 days to hatch.   Set your incubator to 37.5 Celcius/99.5F  and warm before placing eggs on turner.
When hatching Mearns quail, you will require a dryer hatch humidity than chickens. We had success with a humidity rate at 30-32% humidity for 22 days.
At lockdown, we increased humidity to 65%
The ONLY times you should be opening the incubator are:
At day 7 or 10 for candling to remove the dead eggs
At day 22 when you remove from the turner for lockdown
The BIGGEST reason your hatch will fail is because you open the incubator and release the heat and humidity.  Quail eggs are very small, and thin, and are immediately affected by changes.
Once the quail start hatching they can (and should) stay in the incubator for 12-20 hours to dry off, and continue to absorb the egg sack.  They do not need food or water at this time.    IF you have a staggered hatch and need to remove a chick while there are still eggs in the incubator, bring the system into a warm bathroom with the shower running and creating steam.  Use a portable heat/humidity device to monitor the humidity and bring up to 65%.  QUICKLY remove the chicks and replace the lid on the incubator!  (This is a two person job)
Mearns Quail New Hatches
After hatching Mearns quail, they are a little more "needy" than your average chicken or other quail breed.  Their survival instincts aren't quite as strong, and they require more assistance in the first few days to get a strong and healthy foundation.

One day one after hatching mearns quail, remove from incubator and place in brooder. Add Poultry vitamins/electrolytes to water. Ensure waterer is "chick" safe (use rocks or marbles to reduce water depth and prevent drowning)
TIP:  Hatch your mearns quail with OTHER quail varieties (button, coturnix, california) as they hatch more capable and will "teach" the mearns early skills!  We hatched ours with 2 button quail.

Feeding Mearns Quail
Use the highest protein % crumble food available (we use a turkey crumble) and add in DRIED mealworms.  We use a mortar and pestle to crush the crumble and the meal worms (not the best job on the farm, but necessary)    Place the crushed food in an easy to access flat dish.
Your mearns quail will also need fresh greens.  Finely dice organic spinach, or dark leafy vegetables and place into a dish daily.
For the first week to 10 days your quail will consume a LARGE quantity of feed and need frequent replenishing.  They will also require YOUR assistance to eat!
Warner here…. mearns are NOCTURNAL, so you will hear their little chirps in the night when they are hungry!  Don't panic though, this is only for a short while until the get big enough to last without the constant feeding.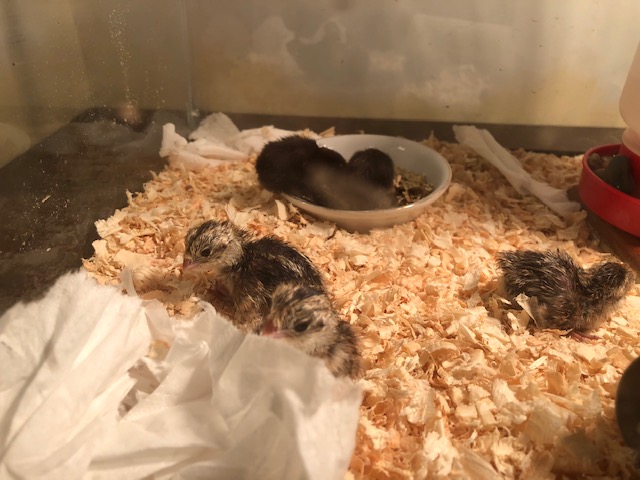 To hand feed:
– use an eye dropper or syringe with the vitamin water and apply a drop to the beak of each baby mearns quail.  Do not force the liquid.  After a few tries they will start to drink from the dropper as soon as it is available.
Dampen your finger tip and press into the crushed worms/crumble and offer to the baby quail.  They will peck the food off your finger.

Continue to show the baby quail the source of food and water during your feeding sessions.
Do this multiple times a day until you start to see the baby mearns quail feed/water themselves.
Housing Mearns Quail
Much like other quail, mearns quail will "pop".  When started, they will have a burst of flight, usually straight up!  To ensure no damage to the quail from bonking their little heads on coop ceilings, be sure to have either "height" and "give" in your quail coop roof.
We build outside coops for our quail, with and indoor and outdoor space so they can dust bath, and feel somewhat at home in a natural environment.
Other breeders use smaller "boxed" coops, ensuring pairs are together and closely monitored for breeding.  In this case a soft draped carpet below the roof line inside the coop will provide some "give" if they quail pops up.
They will need constant access to clean water and food.  Maintain the higher protein feed, with crushed meal worms and fresh green vegetables for your healthiest quail!
Mearns Quail Breeders
Mearns quail are still considered a RARE bird for most backyard farms, but you can start to build a relationship and source fertile eggs or breeding pairs from breeders by getting involved in local or online quail groups.
Do note that international shipping of birds or eggs is VERY expensive and time consuming, so join groups in your country, or area for best luck.
Mearns are seasonal layers, so you will be sourcing eggs from March – July in most places.
Eggs will run from 20$-50$ each, so be prepared to invest.
Young quail will go from $50-150$ each, with a breeding pair going for $250 or more