Traditions are one of the most important things we remember from our childhood. As a parent I am always trying to create opportunities for my own kids to establish their childhood traditions. From placing the star on the christmas tree, to deciding on their birthday meals… each little moment creates a taste, feel and lasting memory of their youth.
Our little dudes birthday is coming up quickly and he is already working on the "menu".  Choosing chocolate fondu instead of a birthday cake, and (of course) starting the morning with homemade cinnamon buns.
We are frequent users of our Hamilton Beach Dough and bread maker, using it mostly for dough items, and then finishing them in the oven.  One of our favourite recipe is for Bread Machine Cinnamon buns.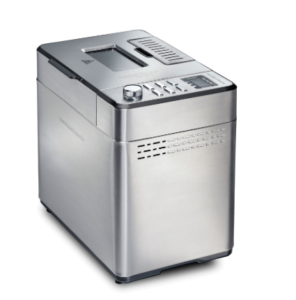 With an easy delay timer I am able to prep the dough the night before so it is fresh and ready to be rolled out in the morning. Giving it about 30 minutes to rise before baking, this means I get a bit of a sleep in, and my birthday boy gets the freshest cinnamon buns ever!
This bread machine is also a nice slim fit, storing neatly in our pantry.  It is easy to clean, and modern looking with its slick silver finish.
Bread Machine Cinnamon Buns

Add ingredients to Hamilton Beach Bread and Dough Maker in order of recipe:
1cup Milk 
3TBS water 
1/2cup water 
1 Egg
3 1/3 Cup White Flour
3TBS white sugar
3/4 tsp Salt
2 tsp Bread Machine Yeast 
Set Bread machine to DOUGH Setting (10) and preset delay timer, or begin dough making immediately.
After dough has finished, remove from non-stick bread pan and roll out into a flat rectangular 1cm thick base.
Top base with filling:
Melt
3/4 Cup Brown Sugar
3 3/4 tsp Cinnamon
2 TBS butter 
Spread melted filling over dough base and roll from one end.
Cut buns 5cm wide and place in greased dish.
Allow min 30 minutes to rise until fluffy.
Bake in oven at 350 for apx 35 minutes (or until fully baked)
Remove and top with icing sugar glaze:
Mix
3/4 c icing sugar
1/4 tsp vanilla 
2.3 tsp milk
Serve warm…..