Ahh Facebook, we welcome your facebook live streaming option, not just as another great way to connect with our friends, and fans, but also as a way to continue to feed into your pesky little algorithms.
Facebook "live" sounds easy really. Go to status, choose the "live video" option, and Boom, there you are. Livestreaming in all your glory.
Except, it ISN'T that easy.
Well, it is… but you being on LIVE doesn't mean that anyone will actually show up and WATCH!   I mean, you  can go online and start tweeting under a hashtag and call yourself a "twitter party"… but odds are people won't be there to chat with you… right?
So, how do you set up a facebook live event, and have people attend and engage with you so that Facebook VALUES your livestream, and ensures that it adds value to your reach?
PREPARE FOR IT!
Simple, but true. There is very little sense in live streaming without notifying people about it.  In fact, the more you can use this as a broadcasting platform, the better it will be received in the end.
Make a plan, and market that plan to your fans:
WHEN:  What day/time are you planning your Facebook live "show"
WHAT:  What is the name of your Facebook live show? What are you talking about? Or doing?  What will your readers get out of it?
WHY: The purpose of your show?  Are you teaching? Telling? Is it just for laughs, or is there education and purpose?  Let your readers know WHY they should attend and watch. Share with them the types of questions you can be available to answer and why it will matter.
Once you have a PLAN, share it.  Post a schedule on your website, notify your facebook fans, create an event that you can broadcast your broadcast to! Go live in your group and invite your FANS to join in?  Make sure people KNOW it is happening, what you will be doing, and why they should be there.
Be Technical!
When going LIVE, speak clearly- make sure your fingers aren't covering your mic. Use a tripod so that your screen isn't all wobbley and jiggly causing your views tummy trouble by watching.  Sit in the LIGHT, or get an additional light you can use to brighten up the view.  Use a mic so that your voice is clear and easy to understand.
Be professional, and treat this like a BROADCAST vs a last minute post.
Set up your facebook page and organize your broadcasts via playlist!  Facebook is now allowing you to feature and sort your videos so you can display your brand in a much better way!   Create playlists, and choose and organize your videos into each playlist.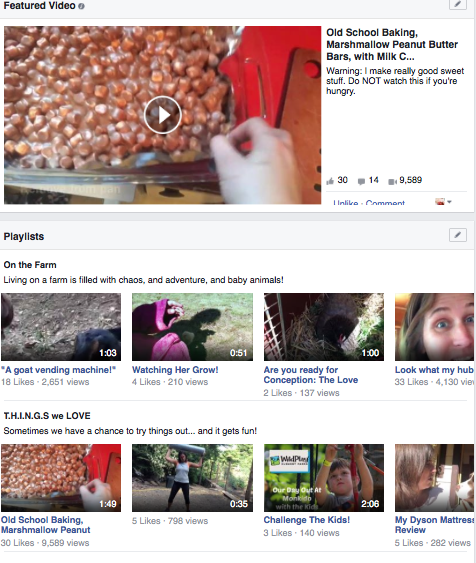 Why does Facebook Live matter?
Facebook WANTS us to livestream, but they want us to livestream stuff that our people LIKE! If you viewers show up, and ask you questions, then they will see that you are offering value.
If your broadcast is too short, and not publicized, people won't come, and facebook will say "Hey, looks like no one is interested, lets downgrade that" and your reach on these will reduce.
Do it well and you will have an exception and newer to market asset you can use for your brand!
So, who is doing it well? 
Aka Mom – They are using their Facebook live as a BROADCASTING channel, and they are doing a great job!  Check it out and I bet it will send off a lightbulb for you!
Should you do it?
If you have something to say? If you are going to do it well. If you are confident and able to create a livetream with a purpose and value to your readers… YES.