Living on Salt Spring Island inviting guests over for dinner isn't just a nicety, it is a necessity. We are an island that doesn't just offer gluten free options, but has entire gluten free coffee shops. Add to that our whole food farmers market and raw food companies, an alternative diet somewhere else is the norm over here.
We live with a vegetarian. We cook for gluten free, sugar free, dairy free and vegan friends.
And no, it doesn't bother me, the gluten-full, sugar friendly, dairy loving carnivore, at all.
And I do love throwing a dinner party.
I enjoy planning out the layers of appetizers, cocktails, entree and dessert. I enjoy ending the meal with snacks and nibbles, so the conversation can still continue to flow. I centre our evening around tastes and smells, and most importantly, food.
Since we live in such an amazing location, surrounded by farmland and ocean, we have a huge array of food to offer, fresh from the source. Before our most recent entertaining evening, Hubby had caught a half dozen fresh ocean crab.
You can call us "crabby" if you like, but the arrival of fresh crab on my doorstep calls for one thing: avocado.
The blend of crab and avocado (and a few other choice ingredients) has me giddy. The tender flaky crab, alongside the smooth creamy avocado is utter perfection.
With guests we love to top a Breton White Bean with Salt & Pepper cracker with a few tender flakes of fresh crab, a perfect slice of avocado and a fresh, ripe strawberry. The salt & pepper in the Breton White Bean cracker adds the PERFECT seasoning, without the need to add any additional toppings. The crunch, the sweetness, the smoothness and the fresh seafood mix together to provide a beautiful, and simple appetizer for your guests (or your husband who keeps hovering over you in the kitchen)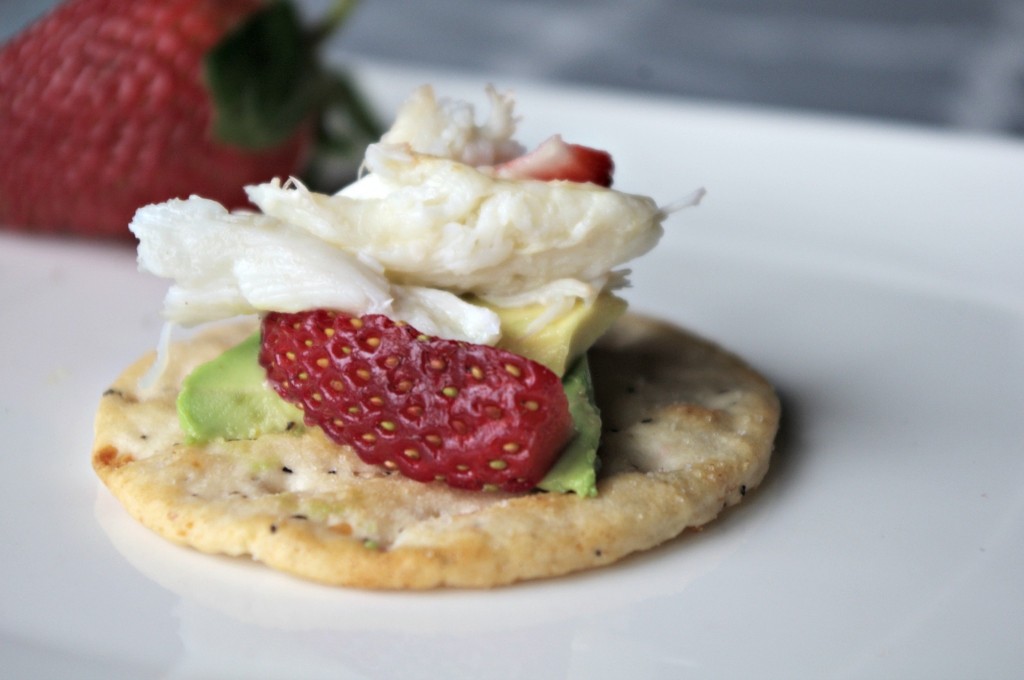 Setting out a plate of these little nibbles when our guests arrive, using either one of the new Breton Bean Cracker flavours, Breton White Bean with Salt & Pepper and Breton Black Bean with Onion & Garlic, isn't just about tasty indulgence.
It is also about indulging in good taste. With 3g fibre and 2g protein per serving, plus all the healthy toppings, these crab appetizers pack a nutritional punch, AND are safe for my celiac & gluten aware friends, especially since beans are the #1 ingredient in the cracker (and they are certified gluten-free by the Canadian Celiac Association)
Of course, if you prefer to serve a seated appetizer, instead of a finger friendly one, you can take the same ingredients and deliver them via a prepared plate.
We make this tasty "salad" course using fresh crab or shrimp, depending on what little sea creatures we have available to use. It is a light and tasty start to ANY spring time meal.
Taking half an avocado per guest, place it tummy up on a small salad plate. Fill the hole left by the avocado pit with fresh crab (or shrimp) and top with fresh strawberries and a soy blended dressing (recipe below) To add some crunch, and additional flavour, I take the Breton Bean crackers and gentle "crumble" them onto of our salad. This adds extra texture, and something a wee bit fun to the dish.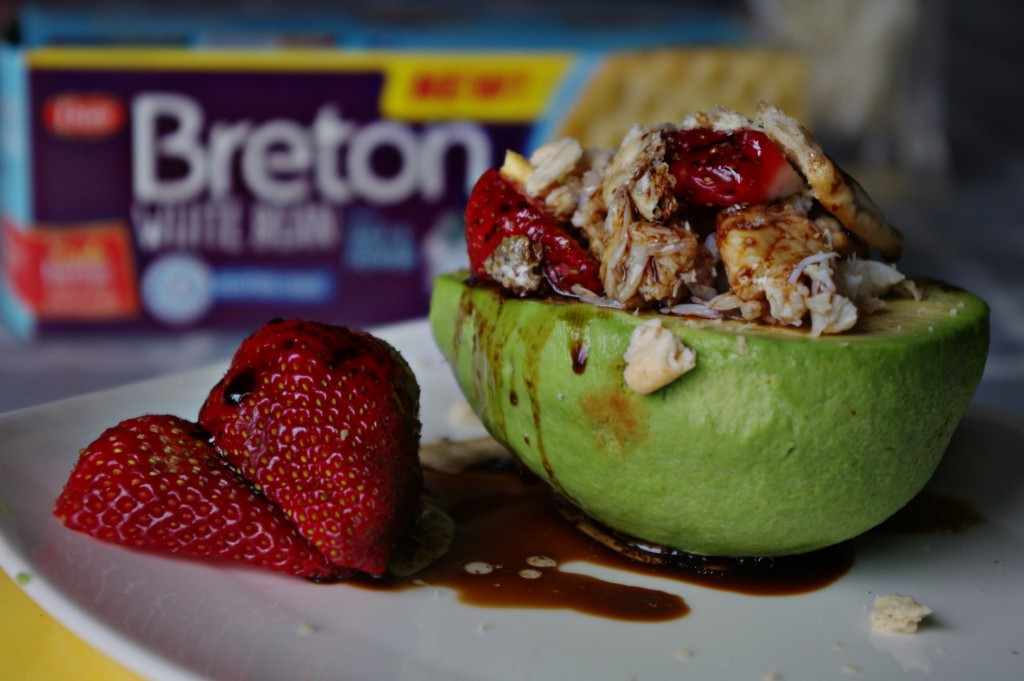 To check out the new varieties of Breton Bean Crackers, and more of their gluten-free options, visit the Dare Foods website or like Breton on Facebook for more product info or recipe ideas.
And for those "after dinner nibbles" check out the new Breton Popped! Beans cracker chips. Made with a blend of chickpea and red bean, they are also gluten free, and include 2g of fibre, and 2g of protein per serving. The kids love the fun flavours Breton Popped! Beans Sea Salt & Pepper and Breton Popped! Beans Sweet Chili Cheddar, and I have even been able to replace their after play chip craving with these babies (yay nutritional swaps)
To learn more about this fun and delicious new gluten free snack option visit sheblogs Canada to RSVP to the #BretonBean Twitter party that will be making Twitter hop on May 21, at 7:00 PM EST. While you are there check out the upcoming contests on Instagram and Twitter, plus a few great recipes to keep you creative in the kitchen!
Easy Crab & Avocado Appetizer with Breton Bean
Recipe Type
:
salad, appetizer
Author:
A light dressing to top a fresh crab and avocado salad appetizer.
Ingredients
2TBS Soy Sauce
2TBS White Wine Vinegar
1 clove crushed garlic
1TBS olive Oil
Instructions
Mix dressing ingredients and pour over ½ avocado, filled with fresh crab or steamed shrimp, and fresh strawberries. Top with lightly crushed Breton Bean Salt & Pepper Crackers.
Although this post has been generously sponsored by Dare Foods Limited, the opinions and language are my own, and in no way do they reflect Dare Foods Limited.