Coffee is the LIFE blood and the reason my family is still alive most days, and my business is running successfully.  But what if I could get MORE from my coffee?
We are thrilled to be hosting BulletProof Coffee on Thursday September 29th, at 9pm to CELEBRATE International Coffee Day!  Join @DaiManuel and @julienowell as hosts and chat with @BPNutrition as they ask the event questions and share great info about their love of coffee!
Follow the hosts, and supporting hosts (click to subscribe to list) 
@WeKnowStuff_US
@west_coastmama
@katsima
@mommiesdrink
@socialmediamndr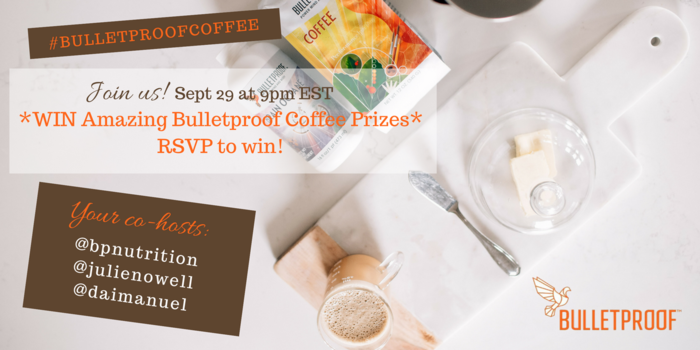 We have a bundle of BulletProof treats for you to WIN IF you RSVP on the linky below and join us to tweet and chat at the party on the hashtag #BulletProofCoffee  Contest is open to Canadians (exc Quebec) and the residents of the USA. 
We will be talking all things COFFEE, and celebrating International Coffee day in style! We will be on hand to answer ALL your questions about BulletProof, and share some tips on how to enjoy this  great start to your morning!