I love this old school recipe for Holiday Breakfasts (we make it Christmas morning AND New Years Morning!)
A layered dish of bread, ham, cheese and eggs, it bakes up perfectly and fills bellies (even ones that are too excited to sit still and eat)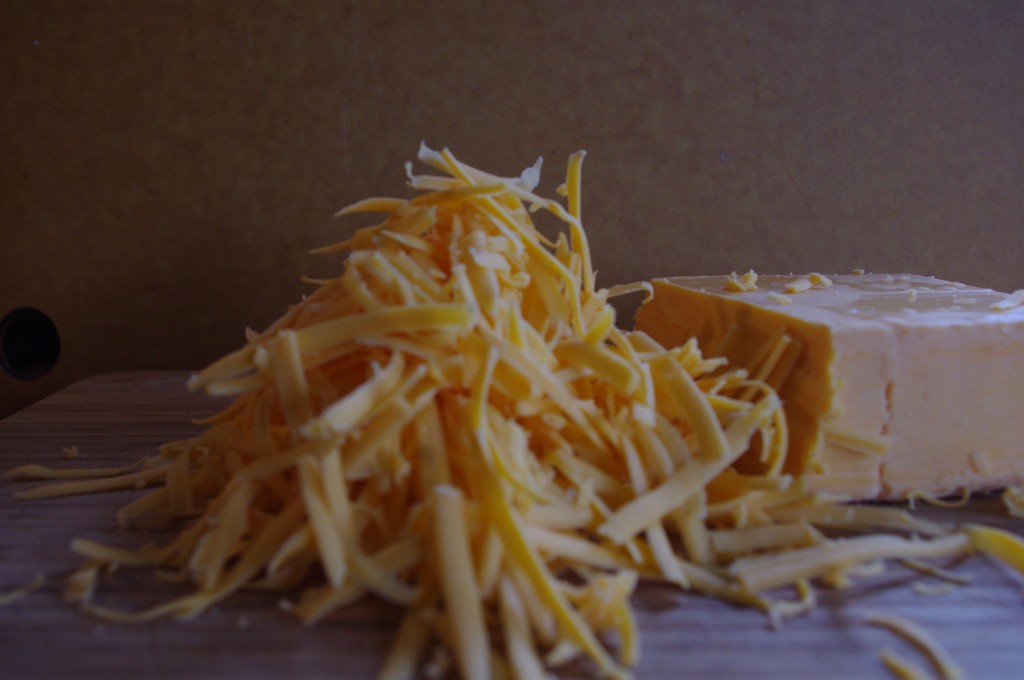 And it is EASY!
Start with a loaf and a half of white bread. Trim the crusts (cause we are old school today, and that's just what you do)
Line the bottom of a baking dish with the trimmed bread until it is covered.
Add a layer of sliced ham on top of the bread (any ham will do) and cover in a sharp cheddar.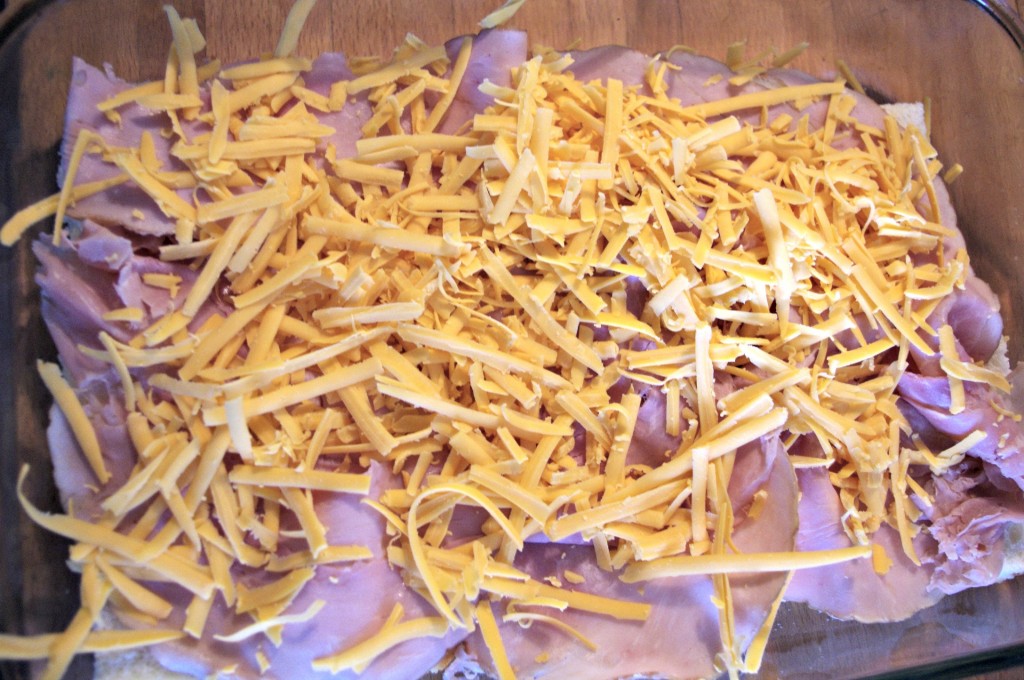 Cover this with another layer of bread (crusts trimmed of course)
In a separate bowl, mix together 6 eggs, 2tsp of worchestor sauce, 1tsp of dry mustard, 3 cups of milk and salt and pepper (to taste)  Add in one whole, or one half, finely diced onion.
Pour this mixture over the layered dish.
Cover with more cheddar.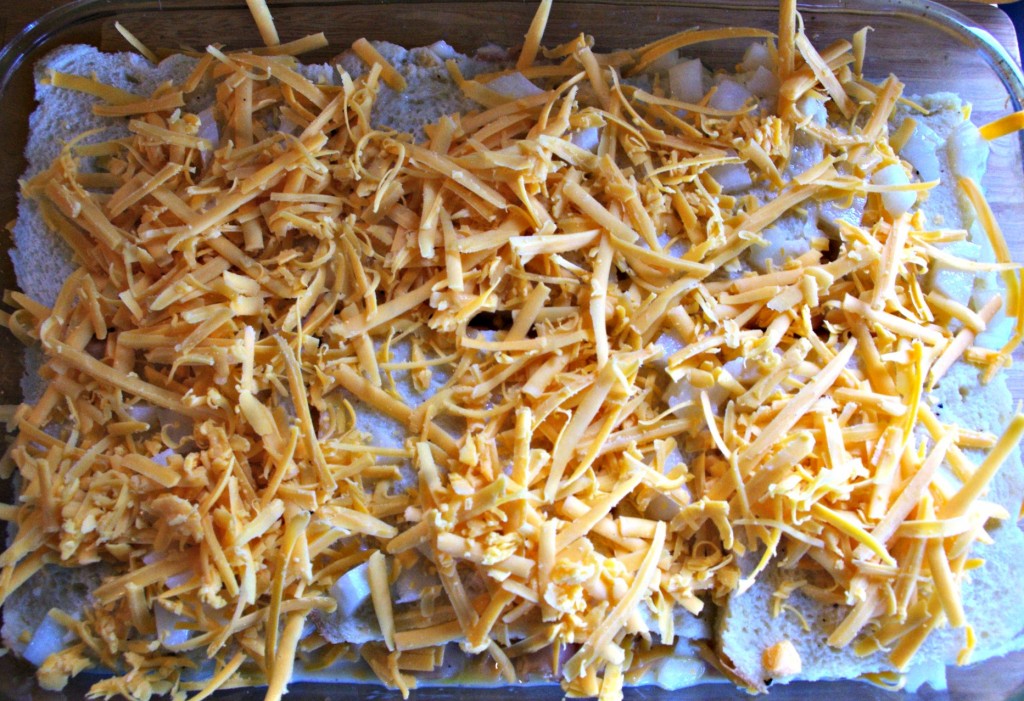 Let it stand, covered, in the fridge overnight and then toss it into a 350′ oven when you wake up.  About 30 minutes later you have a steamy and delicious baked breakfast dish!  Easy squares fill a plate while kids are opening stockings (or mom & dad are recovering from New Years celebrations)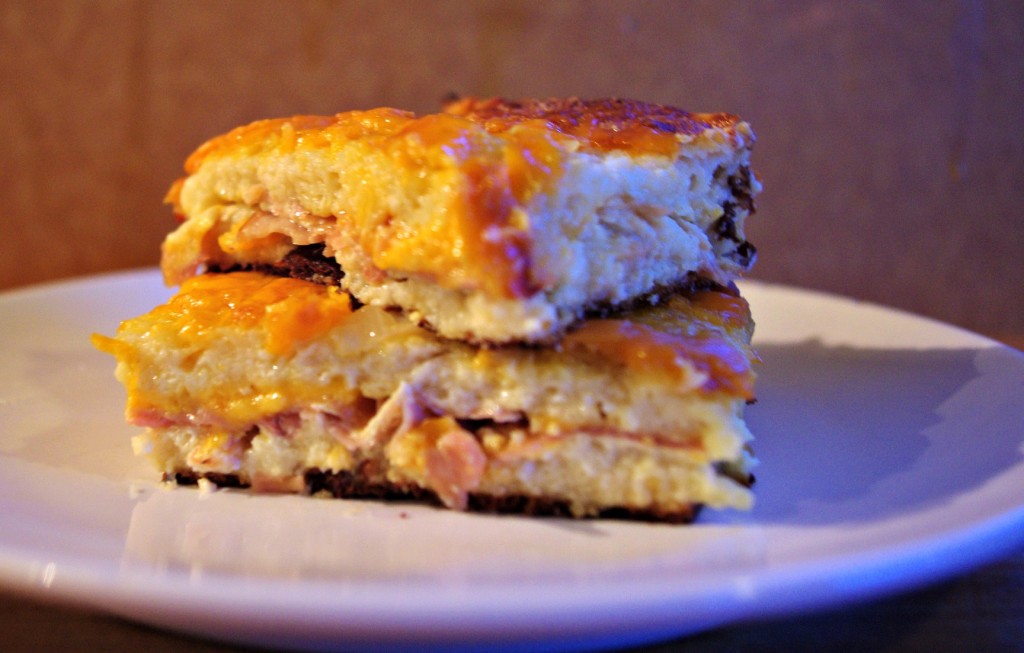 Breakfast Wifesaver
Author:
Prep time:
Cook time:
Total time:
Old school morning wifesaver! Layers of cheese, ham, eggs and bread fill your belly when you are too tired (or hungover) to cook!
Ingredients
16 slices of white bread (crusts trimmed)
6 eggs
1tsp dry mustard
2 tsp Worcestershire sauce
1/2 diced onion
salt/pepper to taste
200G sliced ham
2c grated cheddar cheese
Instructions
Line bottom of glass baking dish with bread
cover in layers of sliced ham and top with 1/2 the grated cheese.
Cover with another layer of bread.
MIX: Eggs, worcestershire sauce, dry mustard, onion & salt & pepper. Pour wet mixture OVER the top layer of bread. Add remaining grated cheese on top.
Cover & refrigerate overnight. Bake at 350′ for 30-45minutes (uncovered) Serve hot!