AMAZING way to use your leftover turkey and exactly what your tummy feels like after being loaded down with holiday carbs & treats!
These leftover Turkey Enchilada's have a nice kick to them, and can be prepared ahead of time and frozen for a future meal!
I haven't gone all nutso with the ingredients in this meal, and hopefully these can be tossed together with the bits you already have at home!
Dice up the leftover turkey (use light or dark meat) and mix with 1c of bottled salsa.
Warm your corn tortillas in a dribble of oil in a hot pan until softened up.  This will also heighten the flavour of the tortilla in the dish.
Fill each tortilla with a sprinkle of grated jack cheese (I used jalapeño jack) and cover with a spoonful of the Turkey/salsa mix.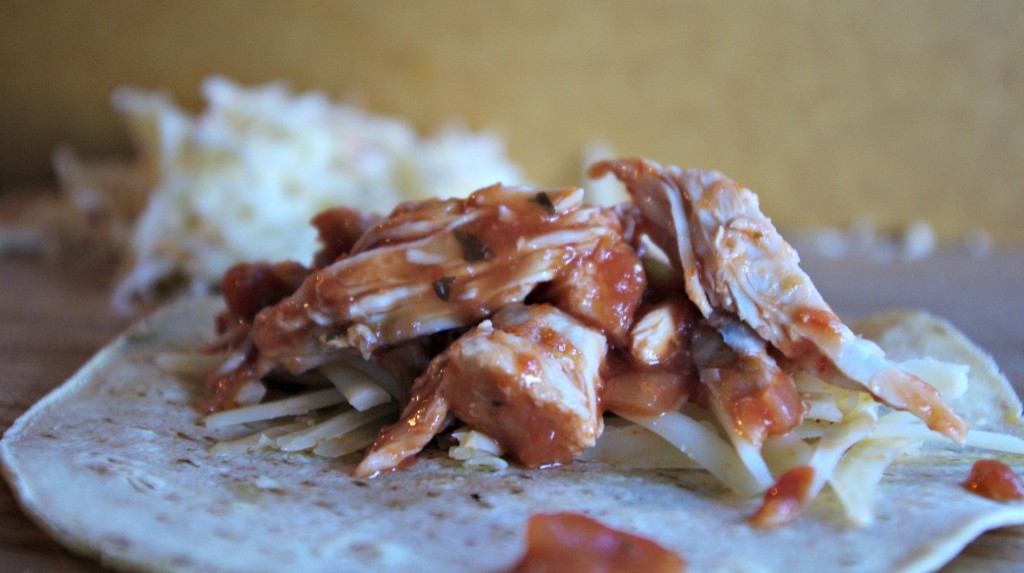 Roll tightly and line a small dish with tidy rolls of enchiladas.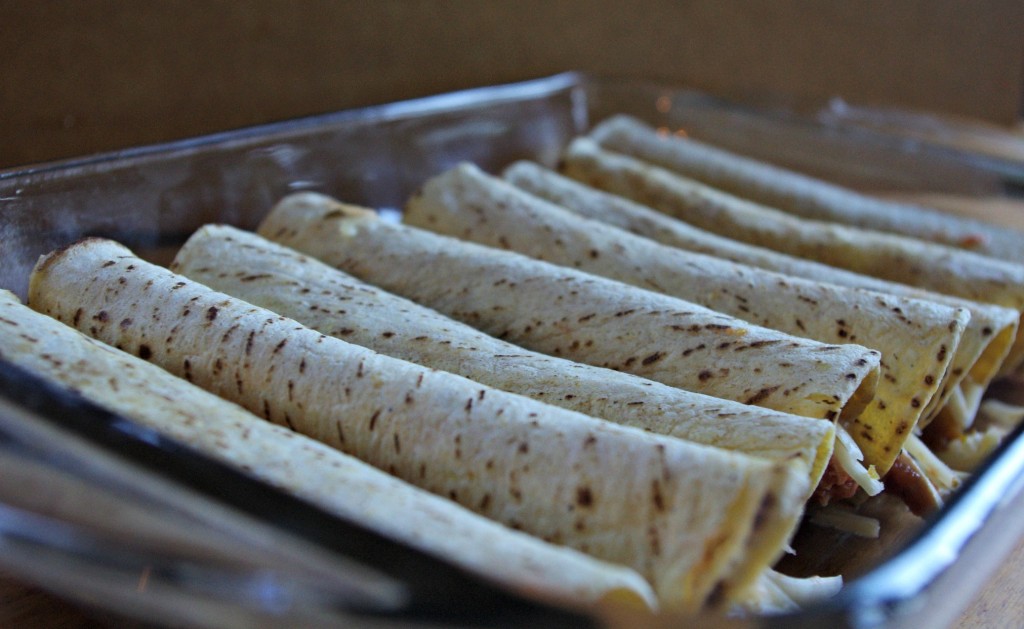 To make the sauce, use 1 can of tomato sauce, and 2TBS of chili powder. I also added in some hot chili flakes (maybe my tummy will delight in the spice?)
Cover the enchiladas with the sauce, and top with more grated cheese.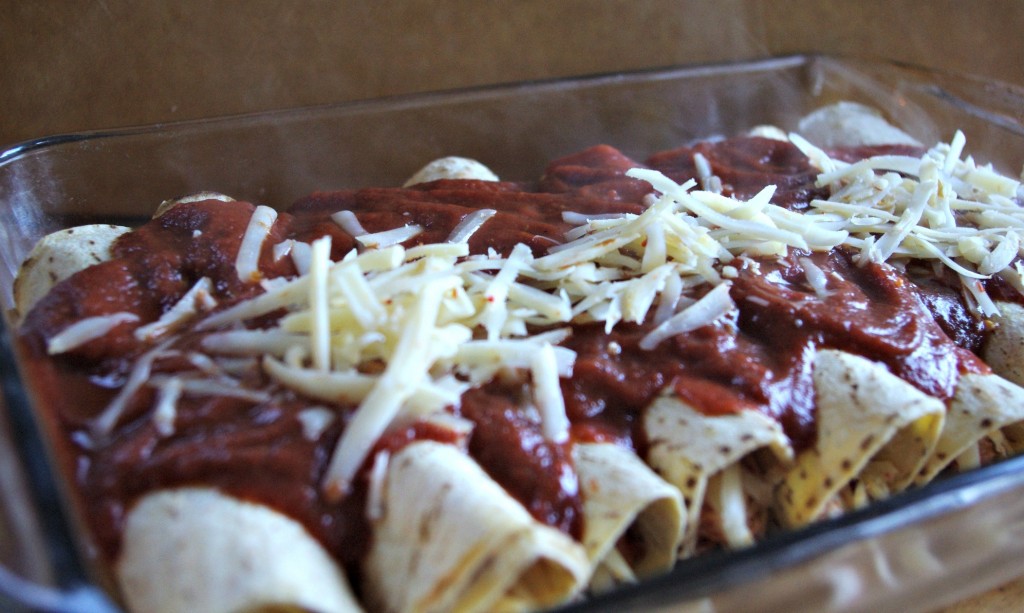 Bake in the oven at 350 for apx. 30-45min (until heated through and the cheese is nicely melted)
Remove to plate and serve with sour cream, and a crunchy topping of diced lettuce!
And check out MORE leftover turkey recipes here!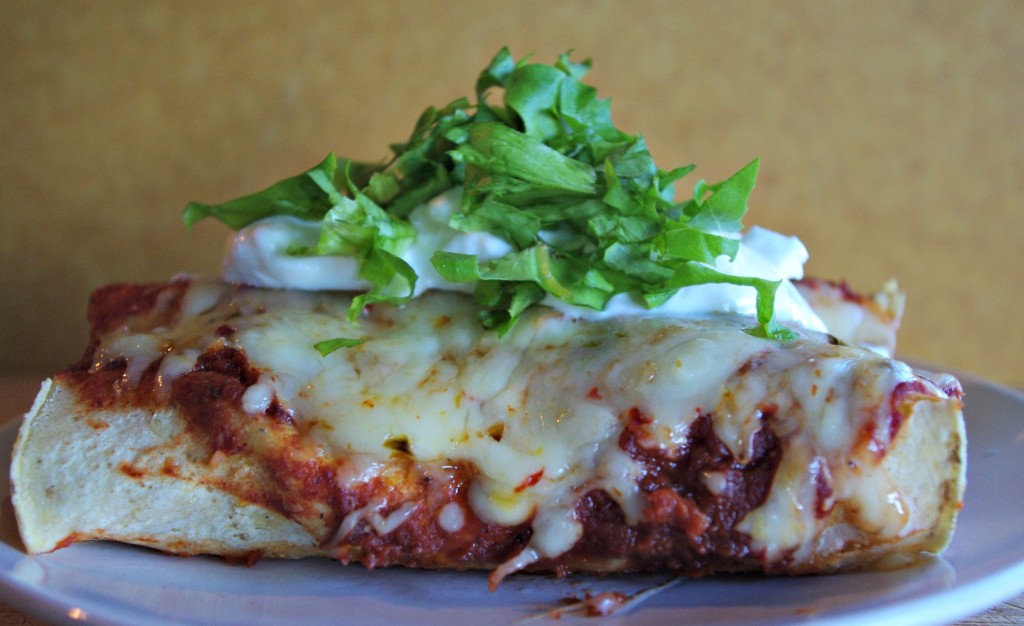 Turkey Enchiladas
Recipe Type
:
dinner, leftovers, frozen, mexican
Author:
Prep time:
Cook time:
Total time:
A spicy enchilada using leftover turkey!
Ingredients
1c diced leftover turkey (light or dark meat)
1c Bottled salsa
12 corn tortillas
2c Monterey Jack Cheese (or Jalapeño Jack)
1 Can Tomato sauce
2TBS chili powder
Optional – chili flakes, cayenne pepper etc
Instructions
Mix Turkey with Salsa and set aside.
Grate cheese.
Warm Corn tortillas in a hot pan with a drizzle of oil. Heat tortilla, flip and remove
Sprinkle 1TBS of grated cheese on bottom centre of tortilla. Cover with turkey/salsa mixture and roll tightly.
Line glass dish with rolled & filled tortillas
SAUCE:
Mix 1 can tomato sauce, and chili powder in saucepan. Add extra seasonings if wanted.
Cover rolled tortillas with sauce and add remaining cheese.
Bake at 350 for 30-45 min until heated through and cheese is melted.
OR, freeze, covered.