Tis the season to make animation and imaginative play easy! You can give the gift of holiday creativity to the budding artists and animators in your life with Crayola's Magic Scene Creator. It lets your kids turn still pictures into animated scenes in a flash. All they have to do is pick one of the included action cards and put it on the Scene Creator screen and watch it go! There are endless options for fun and artistic play thanks to our friends at Crayola (they sent us one to try!)
It comes with 70 action cards for nearly unlimited play that you can put on the screen in any combination to make wild and wacky animated scenes. The cards are cool because they come in five themes: Animals, Fantasy, Mix & Match, Special FX, and Mystery. All done playing? The Magic Scene Creator has built in storage to keep Action Cards organized and stowed away. No muss no fuss creative play for the win! You can even use the built-in stand to prop it up and show off your work when you're all done! The Crayola Magic Scene Creator comes equipped with 6 Crayola Washable Gel FX Markers for original on-screen drawings or to use with the action cards that are provided. Drawings easily wipe clean with a damp cloth, no soap needed!
The Magic Scene Creator includes:
Magic Scene Creator unit
70 action cards
6 gel FX markers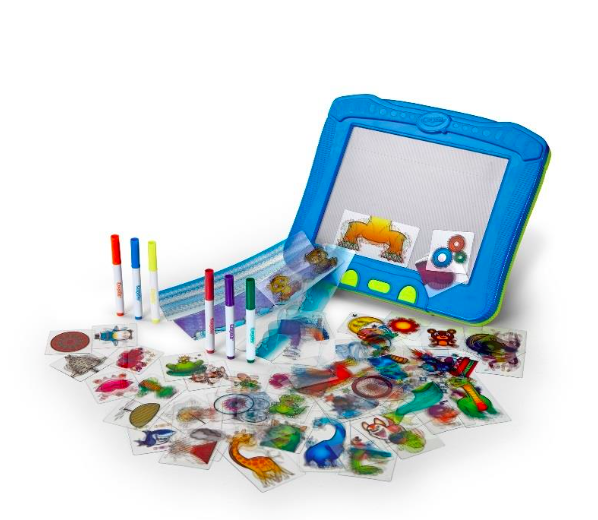 Wondering how to get your hands on one this holiday season? You can buy one here. Want to win one for yourself? One lucky reader will receive a Crayola Holiday Top Toys Pack valued over $70, which includes:
1 Magic Scene Creator
1 Silly Scents Marker Maker
1 Sticker Design Studio
Good luck and happy holidays!
SaveSave
SaveSave