Our kids LOVE pizza, but only with cheese on it. So, as a family meal option this gets a little boring for the hubs and I.  We love this twist on pizza that I learned from a foody friend one summer many years ago, and now every pizza night, make this our meal!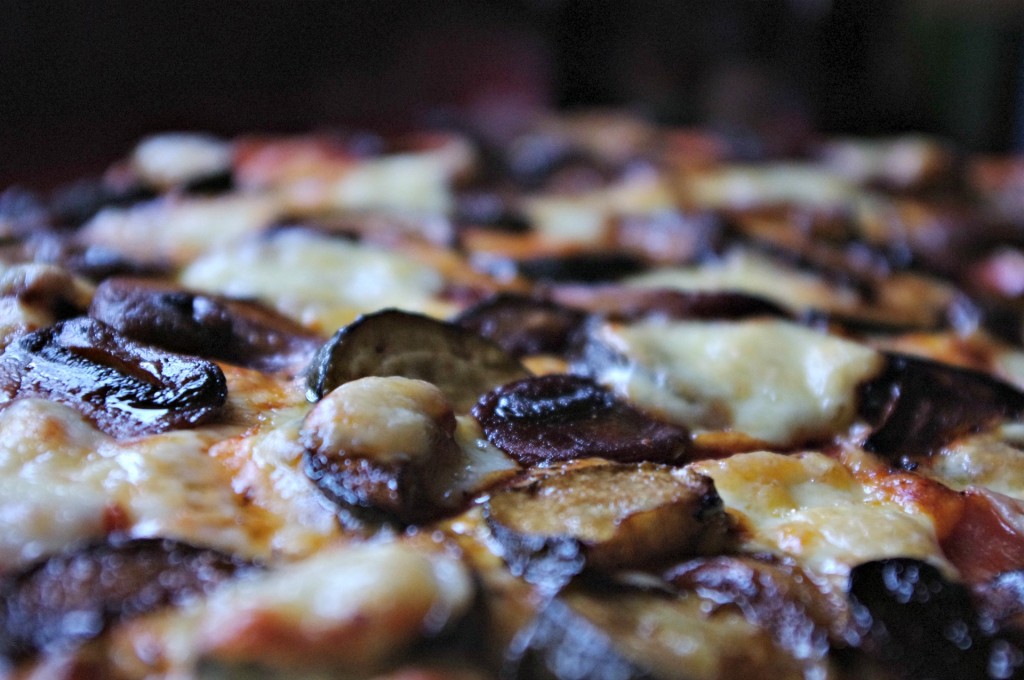 We make an easy homemade pizza dough in our bread machine (see recipe below) that is never fail, and fluffy enough to make the kids squeal.  The kiddies get a simple tomato sauce, seasoned with italian spices and oregano topped with miles of melted mozza cheese, while the grown ups get something a little more special.
We slice up some yummy pepper salami, it is salty, and just a little spicy, and thin enough to actually bite through easily.
Toss in a few handfuls of sliced mushrooms, red onion and zucchini (chunks) into a pan and caramelize in a dash of olive oil.  (add the zucchini late otherwise it will turn to mush)  Once done, add in two or three HEARTY splashes of BALSAMIC VINEGAR and sauté until absorbed in the veggies.
Layer the veggies over the sauce and meat and cover with chunks of your favourite cheese.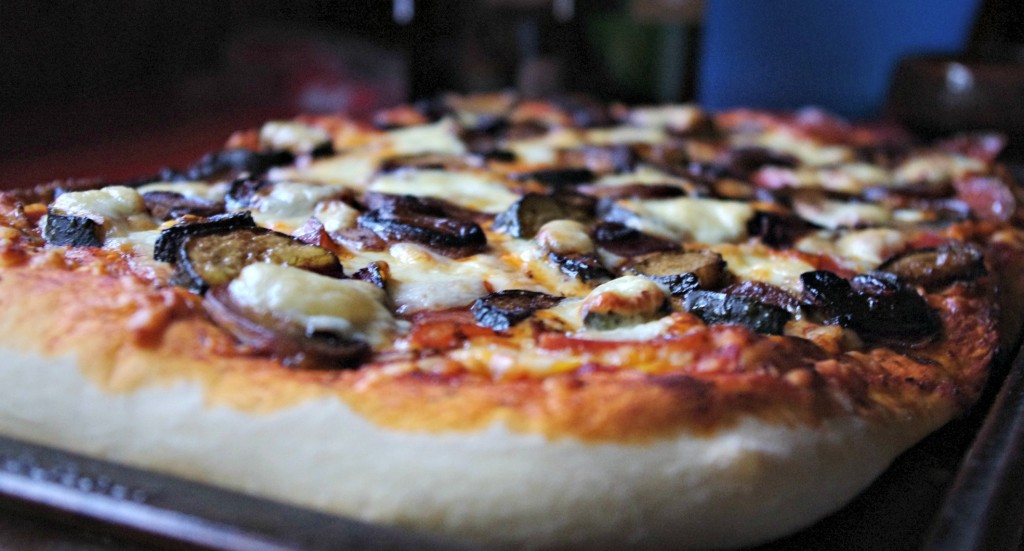 Bake, let rest and DEVOUR!
We love the added flavour of the Balsamic Vinegar to the veggies, mixed with the spicy saltiness of the pepper salami. This Pizza makes you feel like you are fine dining… even though it is "just a family pizza night"
The BEST Grown-Up Home Made pizza
Author:
Prep time:
Cook time:
Total time:
Easy Bread Machine Pizza dough! Top with Balsamic sautéed veggies and spicy Pepper Salami for a "grown up" pizza night
Ingredients
3 tsp Yeast
4.5c Bread Flour
1.5 tsp Salt
3.5 TBS Olive Oil
1.5 Cups Water + 3TBS
TOPPINGS
8 slices Pepper Salami
Cheese!
Tomato sauce, italian herbs
1 zucchini
Sliced Mushrooms
1/2 sliced red onion
1TBS olive oil
2 TBS Balsamic Vinegar
Instructions
Add dough ingredients to bread machine, and select dough cycle. When complete, roll dough on a floured surface (makes 2 large pizza's) and let rise (for fluffy pizza)
OR, for thinner crust, let rise in a greased bowl for 1/2hr, then roll out and add toppings.
Mix tom. sauce with seasoning, add to pizza. If using veggie balsamic toppings, sauté veggies in olive oil, add balsamic when soft.
Bake at 350′ for apx 15-20 min until done