While mindfulness is an ancient wisdom tradition, today it is an evidence-based training used in government, healthcare, business, education and military settings that helps you switch off 'auto-pilot', teaching people how to return their mind to the present moment and what is happening now.
"There are many definitions of mindfulness but it boils down to a training in attention," says Dr. Geoffrey Soloway, Mindwell co-founder.  "Rather than worrying about what has happened or might happen in the future, mindfulness teaches people to respond skillfully to whatever is happening right now. Once people see things for what they really are, they can respond better, communicate more clearly and be more engaged with what they're doing."
Mindfulness is taught at leading organizations such as Google, Goldman Sachs, British Parliament and MBA schools around the globe, including Harvard Business School as it decreases stress, anxiety and depression and increases performance, focus, memory and creativity.
In celebration of the first cohorts nearing the end of The 30 Day Mindfulness Challenge, we are hosting a Twitter Party geared at health and wellness. We will chat about stress, nutrition, sleep and wellbeing and hope that you can join us! Each question will focus on a different aspect of health to help you experience less stress, more joy, and peak performance.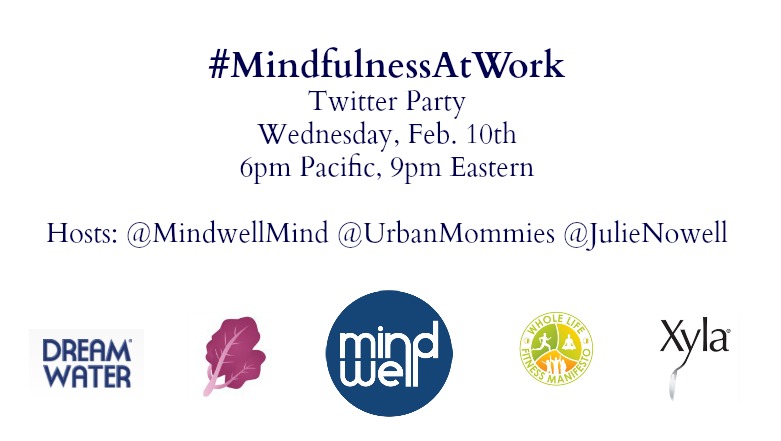 #MindfulnessAtWork Twitter Party
Wednesday, Feb. 10th
6pm Pacific, 9pm Eastern
The prizes are incredible, and we invite you to RSVP below in order to be eligible to win! Sponsors include Xyla, Dream Water and Nourished and Safeway.  Please be sure to follow your hosts: @mindwellmind, @urbanmommies and @JulieNowell as well as special guest @DaiManuel !  See you there!