I have had the great fortune to be on both sides of the integrated campaign experience, both as a blogger and as a campaign creator/manager.
Time and again I see things bloggers do RIGHT that makes ME want to book them again and again, and I see where they are missing the boat and (potentially) missing out on future opportunities.  So, for all our sakes, here is a list of a few key things you can do to up your game when participating in a blogger outreach campaign.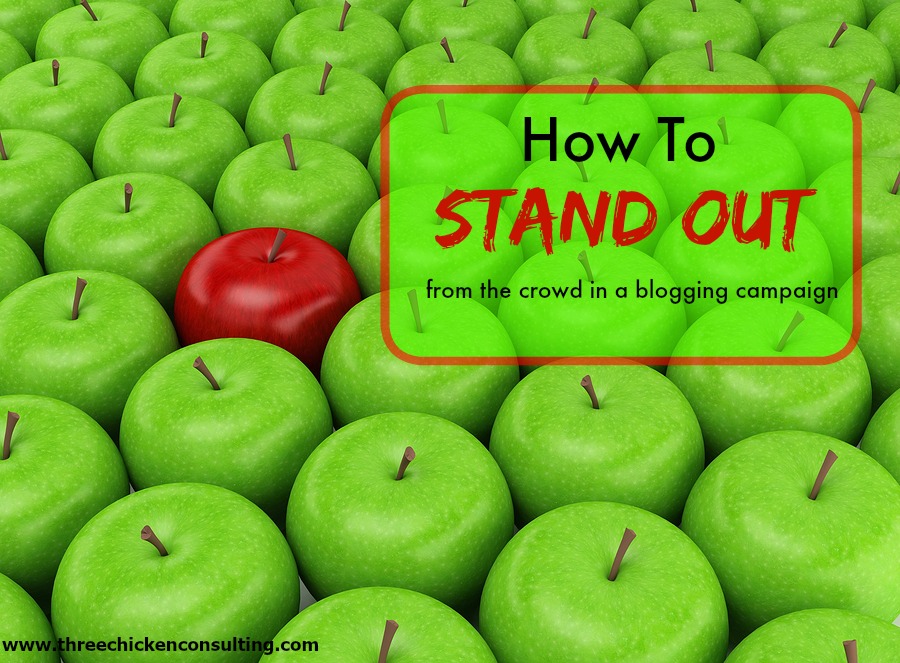 Be timely


(even if the brand/agency isn't)
Stuff happens, and messages get lost and sometimes campaigns run late. This is a common trend and while I understand that you are also balancing things, be understanding when it comes to draft dates, deadlines and publishing requests.  With a PR company or contact who is attempting to manage multiple bloggers on a campaign PLUS deal with last minute changes, the more timely you are with your info, the easier you will make their job. As well, your ability to adapt your schedule and adjust to changes will be a huge GOLD STAR on your profile. 
Edit
Please, re-read your content BEFORE you send it in as a draft, and definitely BEFORE you publish.  Spelling errors are easy to fix, and grammar should be double checked. Ensure you have the copy needed and met the messaging, and if needed, find a friend to read it over for you. In fact, if you are being nicely compensated for a post it would only cost you 10-20$ to have it professionally edited.  The less work a brand needs to do on your content, the more likely they are to re-book you in the future.
Ask Questions
If you are unclear about messaging it is always better to ask questions sooner than later. Be sure you can deliver as expected and that any grey areas are cleared up.  Walking into a campaign with a clear vision will only help you perform better in the end. As well, sometimes you aren't the ONLY person with the questions. Helping to clear up confusion in copy or communication could be a benefit to the agency AND the rest of the bloggers on the team.
Be Professional
If you are emailed, respond. Acknowledge that you received the communication and are on target for the work requested. Don't leave the brand hanging, assuming you DID get the info. A quick note back in response can add an extra tick mark by your name! Not having to "worry" about you is a huge relief to anyone managing a campaign.
Over Share
Sure, we are all expected to deliver a certain number of tweets and posts to promote content, but what would happen if you did MORE? I mean, how long does a tweet take?  Schedule a few extra, or share a little more often. Cross promote on multiple channels. Not only does this increase the brands exposure, but it will also create more traffic to your site, which is just another win for you.
Give Feedback
Give the agency/brand some feedback they can use. Did you love a campaign? Tell them. Was there something they could do better? Provide the info in a professional way.  Communication is a two way street though, so while you are sharing on your end, be sure to open the door to them giving YOU feedback.  Ask if they have any changes they would like to make, suggestions for improvement. Open the door to two way communication and constructive feedback and everyone will win.
Be a Safety Net
Stuff happens and somethings things go wrong. Put yourself out there to HELP, however they need it. As soon as you see things going funky, offer your services to help fix it.  I have gone so far as to offer my services for ghost writing, or offering an additional site to fill in on a campaign, as well have turned around a draft in less than a hour to fill a spot.  Being the go-to blogger can create a bundle of additional opportunities for you, but you have to build the foundation by saying YES and being their when they need you.
Be Good
Sounds so stupid, but do a good job.  Include great pictures, have a great narrative, promote well.  Do everything that you are required to do EXCEPTIONALLY WELL.  Do this before you do anything else actually. Deliver your best work, all the time.
Admit your Errors
If you screw up, say something. Accept responsibility and then do what needs to be done to FIX it. I have missed reviews and then offered the brand additional promotion, at a later date to make up.  Figure out what is on your list that you have messed up (cause there will be something for ALL of us) and go back to it and make it right.
Be Fun
One of the easiest ways to stand out from the crowd is to have a personality.  Be fun in your communications, be willing to engage. Support and be awesome just because you are.  Take the time to add humour and insight and a little light conversation to your engagement.  If you are one of the masses, this alone will stand out.  Don't treat your rep as a robot on the other end of your email and they won't do it back to you.  Be SOMEONE.
In the end you DO want to deliver your best, and be easy to work with and enjoyable to be around. As with any other industry these simple things will allow you to shine among a crowd. And the reality is that the more we attract in this industry, the more we engage, and in the end we are all about ENGAGEMENT, aren't we?